March Snowfall Brings Happy Sledding!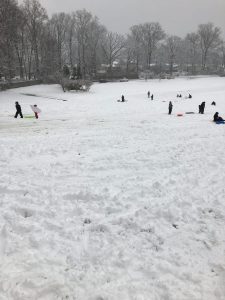 Related Articles
Hello Neighbors! The winners of the 2019 Fairfax Villa Halloween Decorating Contest were the following: Runner-up: Decatur St – Their display featured a home-made kraken and choreographed skeleton dance! In addition, they had some additional monsters, ghouls, and spiders displayed! First Place: Naoma Ct – Their "Lawn of the Dead" theme with committee-favorite "Smokey" continues […]
We had a beautiful day for our annual park cleanup event. Thank you to all our neighbors and friends in Cub Scouts Pack 1513 for coming out to help!